Yard maintenance is a breeze when you have the 36V straight shaft line trimmer kit from RYOBI in your shed.
Perfect if you're looking to enter the range of 36V outdoor power tools or want to add an extra battery to your existing collection, this kit comes with the line trimmer console plus a 2.6Ah battery and charger.
Features include:
33cm cutting path
2mm dual line bump feed head
2-piece guard
2.6Ah hi-tech battery and charger included
This unit has all the power you would expect from a standard petrol outdoor power tool, but without the drawbacks. This means less noise, less fatigue-causing vibrations, and no need to head to the servo to refill your jerry can before you make a start on the yard.
The console is also compatible with the Expand-It™ range, so you can turn your line trimmer into a range of other outdoor tools, including a hedger, pruner, edger and blower.
Get the RYOBI 36V straight shaft line trimmer kit from Bunnings Warehouse.
All ONE+, 36V and 12V tools are now eligible for a 6 year replacement warranty with registration.
---
*Standard 4 year warranty, with an additional 2 year warranty available subject to online registration via ryobi.com.au. All batteries have a 3 year warranty only.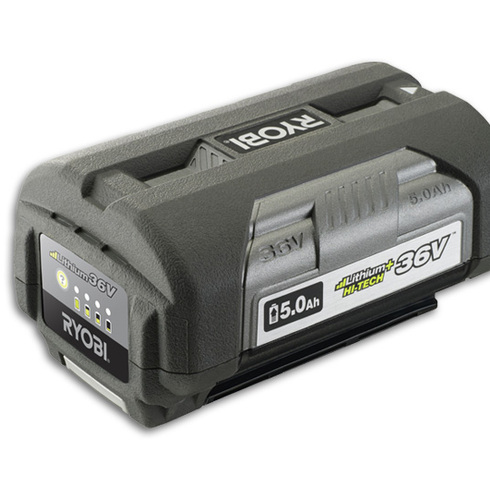 36V Power Made Easy
36V provides a real power alternative to petrol and electric gardens tools with a push of a button. Range features more power, high efficiency and an increased run time. With a vast selection of gardening tools in the range, there is a Ryobi product to suit every green thumb task.
Motor:
36V Brushed Cutting
Head Type:
Bump Feed, 2mm Dual Line
36V Straight Shaft Line Trimmer
36V 2.6Ah Hi-Tech battery
36V charger